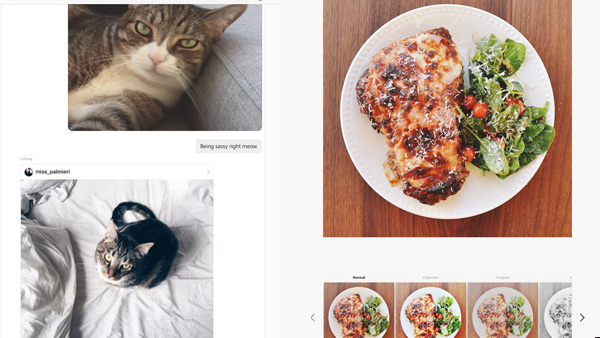 Instagram is a simple way to capture and share the world's moments. Follow your friends and family to see what they're up to, and discover accounts from all over the world that are sharing things you love.
Instagram for Windows allows you to sync your PC with your Instagram app installed on your mobile device. it also enables you to apply a few special effects and share them with family friends on its own social network - or via other social networks. It's a great alternative to Flickr with a wider audience of 800 million users and leaner user interface.
Join the community of over 500 million people and express yourself by sharing all the moments of your day––the highlights and everything in between, too. The Instagram app makes it easy to apply fun effects to your photos and share them with your friends. Although it requires you to sign-up to share images, the possibilities of what you can do with your pictures are vast.
The Instagram app is very easy to navigate. There are icons at the bottom of the interface which represent the different features of Instagram: the photo feed, photo/user search, photo capture, news feed (recent activity on the network from you and those you follow), and profile settings. When viewing pictures on your profile you can choose to display as a list or as a series of tiles for easy navigation.
The presentation of the photos themselves in the photo feed is very clear, and likes and comments are shown underneath each picture. You can like or comment on a photo with a single click of an icon. However, it's a shame you can't open images full screen (i.e. you can only ever see them within the feed).
Instagram for Windows power Features: Easy to use, Share to various social networks, Impressive photo editor, Tag friends in images, Geotagging support, Capture and share video.
What can you do with Instagram?
Post photos and videos you want to keep on your profile grid. Edit them with filters and creative tools, and combine multiple clips into one video.
You take your pictures, add a customized filter, and post it to Instagram's community or through Twitter, Facebook, Foursquare or Tumblr. Through the Instagram app, you can give "likes" and give or receive comments on your pictures.
Share multiple photos and videos (as many as you want!) to your story. Bring them to life with text and drawing tools. They disappear after 24 hours and won't appear on your profile grid or in feed.
Instagram has a Facebook-style feed, where you can view all the photos you upload, the people you follow, and even track specific places and hashtags to have a real-time look at what is going on. If this isn't enough to find what you want, you can also search photos by username, name, hashtag, or location.
The best thing about Instagram are the filters included in the program. There are 27 to choose from (recently added are Lark, Reyes and Juno) with different color, brightness and lighting effects. If chosen wisely, you can obtain really awesome results. Each of these filters can now be customized using the photo editor (see What's New) which is incredibly intuitive.
Watch stories from the people you follow in a bar at the top of your feed. View them at your own pace.
Instagram also includes support for videos, allowing you to capture up-to 15 seconds of footage to share via the Instagram network. As with photos, you can choose from a range of effects to apply to your videos to get them looking great.
Discover photos and videos you might like and follow new accounts in the Explore tab.
Instagram includes a photo and video messaging feature called Instagram Direct. It allows you to capture images and video then share them with Instagram friends. You can send messages via Instagram Direct to up-to 15 of your contacts at once. There is also an incredibly intuitive photo editor. It allows you to refine photos by adjusting aspects such as the sharpness, warmth, and brightness. You can also adjust the strength of the filters. For example, to change the 1977 filter, simply double-tap on it which will bring up a panel to adjust the photos.
Send private messages, photos, videos and posts from your feed directly to friends with Instagram Direct.
The service is very easy to use, and if you have many friends on Instagram it could be a more practical alternative to sending multimedia messages via other services like WhatsApp or Snapchat.
Instantly share your posts to Facebook, Twitter, Tumblr and other social networks.
Keep in mind that other devices running Windows 10 may not support certain features, like the ability to capture and upload photos and videos.
Instagram has a People tab in Explore so you can find interesting people to follow, and curated collections of pictures selected by Instagram. You can also edit captions and change your locations, as well as search faster with predictive searches.
Instagram for Windows System Requirements
Minimum
Your device must meet all minimum requirements to open this product
OS Windows 10 Mobile version 10240.0 or higher, Windows 10 version 10240.0 or higher
Architecture ARM, x86
Memory 2 GB
Recommended
Your device should meet these requirements for the best experience
OS Windows 10 Mobile version 10240.0 or higher, Windows 10 version 10240.0 or higher
Architecture ARM, x86
About Instagram
Instagram is a multimedia application for sharing images on an online platform similar to a social network. Users can show off personal photographs wherever they are, at the same time garner followers. Instagram makes sure that your photos are the center of attention with its simple and straightforward interface. It also features different filters and effects that users can use to improve their photos.
A Popular Online Platform
Instagram has been widely used online because of its accessibility for every kind of user. The tools are user-friendly for expressing current emotions and immediate photo sharing during special moments in life. Anyone can also follow their favorite Instagram users whether they are a family member, friends, artist or a famous social influencer. This is ideal to get updated with the latest happenings locally or around the world. Users can finally enjoy contents from others that share their interests or hobbies. Instagram is also recognized for its over 1 billion users. This application allows the posting of personal photos and videos. Every new post is displayed in a profile grid that followers can view conveniently. Users can also edit their photos with Instagram's very own photo-editing tools. There are filters, drawing tools, text editor and other effects that can enhance normal photos to something outstanding. The application has the option of combining individual photos into a single video slideshow. The Explore Tab offers intuitive browsing of photos, videos and personal stories for following the latest trends from the news feed. Users can immediately add likes and comments on their favorite posts, even reacting to the comments of others. They can also follow the latest stories as well as watch live videos from their idols at the top of the news feed. Other than posting own photos and videos, users can as well share multiple ones to their own story feed. They must remember that story posts will disappear after 24 hours. Story posts will be gone on the profile grid or news feed. The application can host live videos where users can interact with their followers at the moment. All replies are shared in real time. Users can replay their stories once they are done with their live stream. There is a Direct messaging feature that can help users communicate with a person of interest. Attaching temporary photos and videos is allowed, at the same time share other Instagram contents.
Instagram TV
Instagram TV is the very latest installment of Instagram. This section works just like YouTube except it specializes on featuring vertical or portrait videos. Instagram also lets its users upload videos of longer length compared to the 1-minute limit of regular timeline posts and 15-second limit of Instagram stories. With Instagram TV (IGTV), users are allowed to upload videos with a minimum of 15 seconds and a maximum of 10 minutes. It is dedicated completely to lengthy vertical videos that you cannot upload as a story or a regular post. This is actually another really good way to be able to share more of your interests to your followers and other users. IGTV is often used by influencers, famous celebrities, and travel bloggers. Of course, whatever you want to do with your channel is completely up to you.
Express yourself better
When Instagram first came to be, users were able to enjoy the basic functions that were limited to a few but were nonetheless enjoyable. These included taking and editing photos by applying the app's featured filters, which could change the color and overall feel of the pictures. Some filters even come with frames. Basic photo editing was also made possible and users were able to adjust the brightness, contrast, sharpness, and other photo elements until they are satisfied. Now, as time passes, lots of improvements are made to upgrade Instagram and make it a timeless photo-sharing platform. Of course, you can still take pictures and videos, add customized filters, and share posts not only on your Instagram feed but as well as on your other social media accounts like Twitter, Facebook, Foursquare, and Tumblr. What makes Instagram's latest version infinitely better than before is that users can now better express themselves.
The functions are no longer limited to posting, sharing, liking, and commenting on photos and videos. Instagram is now also capable of showing daily and by-the-minute updates through stories, which can either be a photo, video, or a simple text poster. The app also took in face filters and added it to their fat list of features. There are other special effects that users can enjoy when posting stories such as dramatic zoom-ins, geo-tags, and background music. Instagram may not have the same noisy feed that Twitter and Facebook have but expressing yourself through your photos and videos is also a great way for you to share your thoughts, hobbies, and other interests with others.
Discover and explore
As mentioned, while it is not the perfect tool for expressing yourself through words, Instagram still has a Facebook-style feed, where you can view all the uploaded media both from your own personal photo collection and the people you follow. It is a great way to get acquainted with other users' interests, which might also help you develop a passion in new things. With that said, Instagram is equipped with an Explore feature where you can find posts and stories that are somehow related to your own interests. The content you will find in this tab are based on your commonly liked posts. However, if you have a specific idea in mind, you can always just look it up using the search bar. The results are sorted according to Instagram users, tagged places, and hashtags used in the post to make it easier for you to find what you are looking for, whether it is the profile of a famous actor, a good vacation spot for the coming holidays, or delicious and mouth-watering desserts.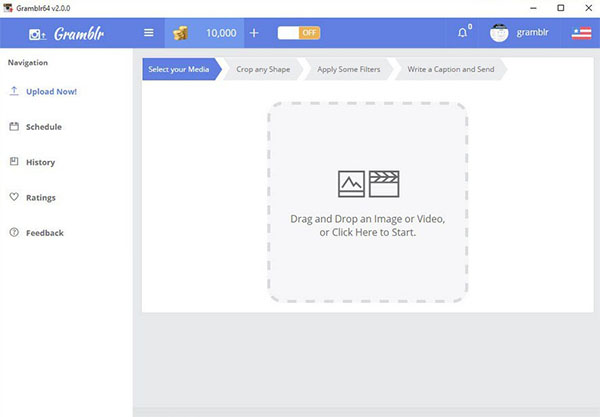 Social Network Platform
Instagram is still widely used today for its versatility and availability for any type of users. Many users gained fame for posting their glamorous, personal moments in their lives. Anyone can share their own stories, at the same time follow trendsetters.
Excellent Photo-Sharing App
Instagram was first known for providing users a free platform to share their photos and videos. The app comes with filters that you can add to your photo and video to enhance its look. But if you want to get more in-depth with your photo enhancement, Instagram has got the basic photo editing features that you can apply. These options include structure, brightness, contrasts, warmth, color, and highlight. Keep in mind that these options are for pictures only and not for videos.
Instagram also allows users to post multiple photos in one post so as to not flood your news feed with photo after photo after photo. Posts with multiple pictures have a little white box in the upper right corner and dots below the picture.
If you want your photos and videos to reach more audience, Instagram has got the answers for you. The app supports cross-platform sharing letting you share your photos and videos to Facebook, Twitter, Tumblr, and Foursquare.
But what makes Instagram infinitely better than before is that its functions are no longer limited to posting, commenting, and sharing videos. The app now allows you to share by-the-minute updates through its Stories function. This feature provides users a way to post a series of photos and videos that are strung together in a content package. Contents posted on Stories disappears after 24 hours, so you don't have to consume more storage space. Recent Instagram app update provides the users the option to share their Stories on Facebook Stories.
Popular Social Media Apps
There is no doubt that Instagram is one of the leading social media apps out there. This app has a lot to offer besides posting and sharing. In fact, many users used this app as a platform to influence and inspire others through images and videos. And with its constant updates and addition of new features, it is no wonder that Instagram is called the queen of all social media apps.
Forming intimate connections
Aside from posting and sharing photos on your timeline for people to see, Instagram also lets you send private messages with fellow users. It basically has a chat app as well a place where you can share posts to specific people only and exchange text messages with them. Additionally, you can react to their messages by liking them so they would know that their sentiments are greatly appreciated.
Another feature that has been recently added to the Instagram new version is being able to choose who will be able to see your uploaded stories. Aside from simply hiding them from specific users, you can create a group of close friends. This way, when uploading stories, you can just select the "close friends" option and your post will automatically stay exclusive within that chosen group of users.
Experience Instagram
Instagram is an app that has a lot to offer besides posting and sharing. Many artists use this social media site as a portfolio or tool where they could influence and inspire others through images. A picture is worth more than a thousand words and Instagram's basic function as photo-sharing platform is a testament to this. By letting you apply filters and do simple adjustments to your pictures, Instagram is allowing you to add your own personal touches. You can create and share wonderful content, discover the simple pleasures in life, and preserve unforgettable memories through your uploaded photos and clips.
Explore and IGTV
Instagram comes in a Facebook-like feed that lets you view all uploaded media from your own account as well as the people you follow. From there you can browse through images and videos and even like and comment on posts that you like. But if you wish to see more posts other than those who you have followed, you may do so with this app. Instagram has an Explore feature which lets you see posts popular among users as well as recommended posts based on your commonly liked posts. The contents are organized according to Instagram users, tagged places, and hashtag used, for you to find what you are looking for. If you have something specific in mind, you can also look it up on the search bar. Instagram allows users to search for people, tags, and places.
But perhaps the most innovative addition to this app is its improved video sharing feature. Instagram's latest installment, Instagram TV or IGTV is dedicated to lengthy vertical videos that you cannot upload as a regular post or a story. Regular posts come with a limit of 1-minute per video while Stories are limited to only 15 seconds. IGTV lets you post videos that span up to 10 minutes, making it an ideal platform for social media influencers, celebrities, and bloggers.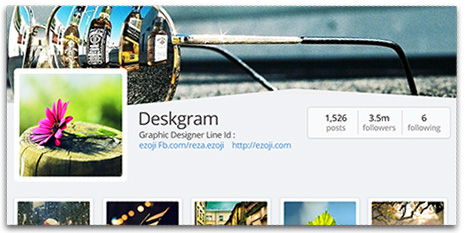 Gramblr
Gramblr is a free application that links instagram for PC and allows you to upload photos and videos to Instagram on PC. Providing many features that you would expect from a social media management tool, it proves a reliable alternative to subscription-based Instagram uploaders and show how to post on instagram from PC, it may act as instagram desktop app.
The process of uploading content to Instagram from desktop or PC with Gramblr is very simple. Gramblr automatically crops photos and videos, and there are a good selection of filters that can be applied to uploads. There is also a handy function which accommodates the scheduling of uploads throughout the day – even if you are not at your desk.
Although it's unlikely that a casual user of Instagram would go to any great length to use Gramblr, this is an exceptionally useful app shwoeing how to post on instagram from pc. With Gramblr, users can assign numerous Instagram accounts to app, which can be seamlessly moved between when working on multiple projects.
Deskgram
Upload Photos to Instagram From Your PC/MAC
Deskgram is your desktop version of Instagram that shows you how to post on instagram from pc. It is100% safe way to upload your photos to instagram directly from your MAC or PC.
Upload High Quality Photos
Upload directly from your browser.
No need to install any software.
Easy Drag and Drop photos to upload.
Working Hash Tags in the Post.
How Deskgram Works
Requirements
• Google Chrome Browser
• Deskgram Extension for Chrome
For Mac OS, Ubuntu( and other Linux versions)
• Python 2.7
• Messaging API
For Windows XP and later
•
.NET Framework 4.0
• Messaging API
Application permissions
Use your location
Use your webcam
Use your microphone
Generate code dynamically
Access your Internet connection
Use your contacts
Use your pictures library
Use your video library
Conclusion
To conclude Instagram for Windows works on Windows operating system and can be easily downloaded using the below download link according to Freeware license. Instagram for Windows download file is only 199 MB in size.
Instagram for Windows was filed under the Miscellaneous category and was reviewed in softlookup.com and receive 5/5 Score.
Instagram for Windows has been tested by our team against viruses, spyware, adware, trojan, backdoors and was found to be 100% clean. We will recheck Instagram for Windows when updated to assure that it remains clean.
Instagram for Windows user Review
Please review Instagram for Windows application and submit your comments below. We will collect all comments in an effort to determine whether the Instagram for Windows software is reliable, perform as expected and deliver the promised features and functionalities.
Popularity 10/10 - Downloads - 45 - Score - 5/5

Category:
Miscellaneous
Publisher:
Instagram
Last Updated:
08/01/2019
Requirements:
Windows 10
License:
Freeware
Operating system:
Windows
Hits:
1847
File size:
199 MB
Price:
Not specified
Name: *

E-Mail: *

Comment: *