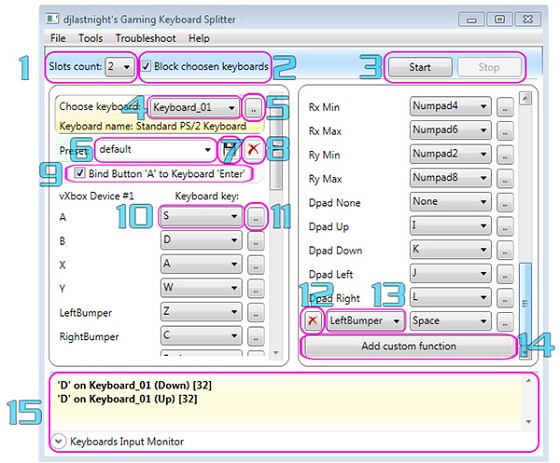 Use Gaming Keyboard Splitter to play any game that supports xbox controllers with different keyboards. You can create up to four virtual Xbox 360 controllers that receive input from separate connected keyboards, and use these to play multiplayer games, with this clever utility
Gaming Keyboard Splitter Overview
While you can connect multiple keyboards to the same computer and use them at the same time, Windows treats them as the same device, making it not possible for them to be used for multiplayer gaming. KeyboardSplitterXbox also integrates a tool that will let you test your virtual Xbox controllers. A keyboard input monitoring tool is included, as well. Before running the application, you will need to install the built-in drivers, and a reboot will also be required. By default Windows OS does not distinguish between the connected keyboards. They act as the same device. KeyboardSplitterXbox offers a rich set of features, including a key detector, a remote bocking and unblocking function, keyboard detector, and USB detection in real time.
What is Gaming Keyboard Splitter?
Gaming Keyboard Splitter creates up to 4 virtual xbox 360 controllers and feeds them via one or more keyboards (up to 10). Gaming Keyboard Splitter requires a lot of free time to be reserved, but only during the first start. We can not only pair each connected keyboard with the controller's socket, but also assign gamepad functions to each button on the keyboard. Keyboard Splitter is a very helpful tool for playing multiplayer games, you can even save your control configuration and use different types of control configuration for each game. There is also an option to prepare predefined settings for specific games. There is also an option called Test Virtual Controller which helps you test whether the controls are set correctly. The goal is to play any game that supports xbox controllers with different keyboards instead of just one. Any application, which works with such controllers should be supported too. It is very easy to assign controller functions to each keyboard key, and the program even comes equipped with a series of presets for certain games but you too can easily make your own keyboard Configuration presets. To check if everything is functioning, you can bring up the Xbox controllers tester and check that each keybind. The application block Windows from receiving regular input from the connected keyboards.
Gaming Keyboard Splitter Main Features:
- keyboards input monitor
- virtual xbox 360 controllers tester
- customizable mapping presets
- managing xbox custom functions
- keyboard detector
- key detector
- realtime usb detection
- keyboard input blocker
- remote blocking/unblocking the keyboards input
How to play Multiple players with one computer and Multiple keyboards
If you are asking this question the answer is Yes, you can use two keyboards to play multiplayer games like Pro Evoulation Soccer and EA FIFA Soccer. If your friend don't have joysticks tell him to bring a keyboard to play in multiplayer mode.
What do you need?
Xbox Driver Click here to download
.
Keyboard Splitter Software like :
1-
Gaming Keyboard Splitter
creates up to 4 virtual xbox 360 controllers and feeds them via one and up to ten keyboards.
2-
Xoutput
: Converts DirectInput into Xinput data so that you can use Xbox 360 controllers when playing games on your PC.
How to install keyboard splitter?
1- Download and install the Xbox driver for windows version above 7 then Run the application, it will ask you to install the built-in drivers. Do it and reboot your PC.
Xbox driver can be download here!
2- Download and install the
Keyboard Splitter
.
3- Open Gaming Keyboard Splitter and enter the number of keyboards that you have connected. Please not that the maximum number of keyboard you can use is four.
4- Select the name of the game for which you want to use this software if your game is not in the list select the default option.
5- Go to the tools menu and select "Test Virtual Controller" to check whether the controls you have set is correct or not.
6- Click start and you are now ready to play multiplayer games with two or more keyboards on the same Computer.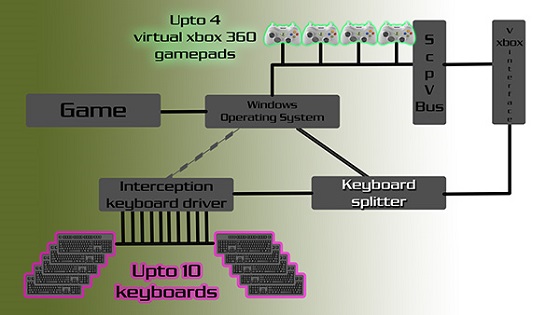 All keyboard mappings to xbox functions such as buttons, axes, d-pad directions and triggers are fully customizable. This is possible via preconfigured presets. The user could manage (add/edit/delete) different presets for different games/applications/players. The presets are kept in presets.xml, which the application reads on startup and writes on exit. Keyboard Splitter comes with two hardcoded presets called 'default' and 'empty'.
Gaming Keyboard Splitter Drivers
Keyboard Splitter required drivers (interception and xbox bus) are embedded into the exe file and the user will be prompted to install them on first run. So Gaming Keyboard Splitter requires the installation of a Microsoft Xbox 360 controller on Windows XP, Windows Vista and Windows 7 operating systems. Owners of newer versions of popular "windows" must install embedded drivers, and then restart the computer. So keyboard splitter for windows 10 will work with controller drivers.
Gaming Keyboard Splitter Change log
Gaming Keyboard Splitter version 2.1.0.0 on June 2019
-Added the ability to control the splitter 'block keyboards' and 'block mice' from Splitter Game.
- Added the ability to specify arguments to splitter game executable.
- Windows reports that some executable files are being closed right after they are opened.
- Game manager will avoid showing useless modal dialogs, which informs the user that the game executable has been closed, when such case is detected so the use will be notified for that and need to stop the emulation manually.
Download Keyboard Splitter v2.1.0.0
Gaming Keyboard Splitter version 2.0.0.4 on June 15 2019
Fixed issue #15 (Cannot delete a preset)
Download Keyboard Splitter v2.0.0.4
Gaming Keyboard Splitter Release 2.0 beta RC1 on Oct 5, 2017
This release has absolutely new core. It improves the code readability and maintainability.
Main features added:
- Better Windows 10 support (some users had problems with native modules loading)
- Mice support (allows you to use keyboards and mice for each slot)
- User settings (allows you to change various app settings)
- Game manager (allows you to save slot states and run specific game)
- Preset manager (allows you to import/export presets)
- Xinput controller tester (allows you to test virtual and real xinput controllers)
- Controller subtype patcher (allows you to change real and virtual xinput controllers subtype to guitar in example)
- Known bugs: Mouse resizing is slow.
Download Keyboard Splitter v2.0.0.3
Frequently Asked Questions
Can I use two keyboards to play multiplayer FIFA 2018?
Yes, you can easily play with 2,3,4 keyboards at a time using
Gaming Keyboard Splitter
. First
Download Gaming Keyboard Splitter
from our website, then open the application and choose keyboard option. Set the number of keywords to two and select your keyboard and opponent keyboard on adjacent side. Then assign keys as below and click on the start button.
RB: finesse (F)
LB : player change
A: pass (S)
Y: through ball (W)
LT : jockey ®
B : shot (D)
X : lob (A)
RT : sprint (E)
Not working on windows 10
Install Visual C++ Redistributable Packages (vcredist13_x86)
Keyboard Splitter is not opening or crashs on start
Make sure you have .NET Framework 4 or newer
DirectX 2010 June
VCRedist 2013 x86
No "Scp Virtual Bus Driver" installed (Check at Device Manager -> System Devices). If you have it - uninstall it
No "Interception" driver installed. Open cmd.exe as admin, navigate to install-interception.exe folder and type "install-interception /uninstall".
Reboot your PC. Now run the KeyboardSplitter.exe - it will install the correct drivers and will ask you for a reboot.
Cannot delete a preset
Issue was fixed in release (2.0.0.4)
Unexpected app crash
Make sure you have Visual C++ Redistributable Packages installed
Unable to load DLL 'VirtualXboxNative.dll'
You need to install vcredist 2013 x86
Alternatives to Gaming Keyboard Splitter
DS4Windows (Ryochan7 fork)
DS4Windows is a program that allows you to get the best DualShock 4 experience on your PC. By emulating a Xbox 360 controller, many more games are accessible.
JoyToKey
JoyToKey enables you to control any softwares by using your favorite windows…
Xpadder
Xpadder simulates the keyboard and mouse using your gamepad.
jstest-gtk
jstest-gtk is a simple joystick tester based on Gtk+. It provides you with a list of attached joysticks, a way to display which buttons and axis are pressed.
DS4Windows
Lets DualShock 4 controller emulate Xbox 360 controller, via USB or Bluetooth, with extra features like DS4 touchpad for mouse input.
X360ce
XBOX 360 Controller emulator is a wrapper library that translates the Xinput calls to DirectInput calls, to support non-Xinput game pads in applications.
JoyXoff
Integrate your keyboard and mouse in one place and turn off the Xbox 360 Controller easily on PC.
Joystick Mapper
Joystick Mapper is an Mac OS X application that allows you pro play any game or use any other application with a Gamepad or Joystick.
Pinnacle Game Profiler
Pinnacle Game Profiler allows you to emulate your keyboard and mouse with your video game controller, and otherwise customize the controller's behavior.
ControllerMate
ControllerMate is a controller programming tool that allows you to customize the behavior of your HID devices — keyboards, keypads, mice, trackballs and joysticks.
InputMapper
InputMapper is a DS4 (DualShock 4) input mapper that allows you to connect your PS4 gamepad to windows, wired (USB) or wirelessly (Bluetooth).
reWASD
First and only gamepad mapper to make Xbox Elite paddles separate buttons. Works with Xbox Elite, Xbox One, and Xbox 360 controllers.
Controller Companion
Put mouse, media and keyboard control in the palms of your hands so you'll never have to leave the couch again!
Gopher360
Gopher is a tool for turning 360 or Xone controller input into mouse & keyboard input.
Xiaomi Gamepad to Xbox 360 controller Mapper
An input mapper app that add xinput to Xiaomi Mi Gamepads, so windows games recognize Xiaomi gamepad as a x360 controller & you can play them without any difficulty.
FreePIE
FreePIE (Programmable Input Emulator) is a C# utility for bridging and emulating input devices.
Joystick 2 Mouse
Joystick to mouse let's you control the mouse and keyboard using your joystick or gamepad.
Enjoy2
Enjoy2 is a simple program for OSX that allows you to transform joystick inputs into keyboard or mouse events.
ControlMK
ControlMK is an utility which uses DirectInput controllers to emulate mouse, keyboard, and other types of commands.
J2K
JoyToKey is a very feature-rich joystick to keyboard mappers.
QJoyPad
QJoyPad is a free Linux/QT program that lets you control any keyboard Xwindows program with a gaming device.
Enjoyable
Enjoyable is an application for Mac OS X which allows you to use controller inputs like a mouse or keyboard.
Rejoystick
Rejoystick is gamepad/joystick translator/keymapper Rejoystick is a program that maps keypresses on your gamepad/joypad/joystick to keypresses on a keyboard when you are running X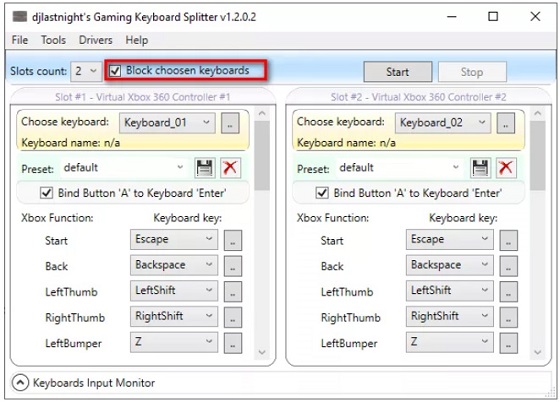 How to play games with two Keyboards - Method 2
Some games does not allow multiple players on keyboard so if you want play games with two keyboards you need to remap any inputs such as keyboards, mice, joysticks, racing wheels, eye trackers, etc. to virtual output devices. Remapping is achieved by transforming inputs through plugins to a desired output device.
UCR is one of these tools thsat supports input and output devices through plugins using the IOWrapper backend. UCR Supports the following input:
Xbox 360 controllers (Xinput)
DirectInput controllers, includes gamepads, racing wheels, HOTAS, etc.
Keyboard (using interception)
Mouse (using interception)
Tobii Eye tracker
How to install UCR
Download
UCR
and install it, then reboot your system
After rebooting, start
UCR
. If you extracted
UCR
with Windows's zip extractor, you may be prompted to run it by Microsoft SmartScreen. You will then be prompted by
UCR
to unblock additional components of
UCR
, which will require going through SmartScreen again.
Now go to Devices then to Manage Device Groups and create an input group and add your keyboard to it.
Make an output group and add the ViGEm Xbox 360 Controller 1 to the group.
Select Profile then New to make a new Profile then select the added input and output groups.
Edit the Mapping Inputs and map your controller buttons.
To map the triggers, use the Button to Axis plugin.
To map an axis, use the Buttons to Axis plugin for each joystick. If you find that your two buttons are the wrong way around, you can check the Invertcheckbox to swap them.
Check if the mapping are correct by selecting Profile then select Activate Profile. The status of inputs and outputs will be shown as bars. Before starting UCR make sure you have installed the controller driver and ViGEm.
Now open
UCR
and activate the added profile.
Conclusion
To conclude Gaming Keyboard Splitter works on Windows operating system(s) and can be easily downloaded using the below download link according to OpenSource under LGPL license. Gaming Keyboard Splitter download file is only 5.0 MB in size.
Gaming Keyboard Splitter was filed under the Tools and Editors category and was reviewed in softlookup.com and receive 5/5 Score.
Gaming Keyboard Splitter has been tested by our team against viruses, spyware, adware, trojan, backdoors and was found to be 100% clean. We will recheck Gaming Keyboard Splitter when updated to assure that it remains clean.
Gaming Keyboard Splitter user Review
Please review Gaming Keyboard Splitter application and submit your comments below. We will collect all comments in an effort to determine whether the Gaming Keyboard Splitter software is reliable, perform as expected and deliver the promised features and functionalities.
Popularity 10/10 - Downloads - 48266 - Score - 5/5

Softlookup.com 2023 - Privacy Policy
Category:
Tools and Editors
Publisher:
Ivan Yankov
Last Updated:
07/07/2021
Requirements:
Windows 10 64-bit / Windows 10 / Windows 8 64-bit / Windows 8 / Windows 7 64 bit / Windows 7 / Windows Vista 64 bit / Windows Vista / Windows XP 64 bit / Windows XP
License:
OpenSource under LGPL
Operating system:
Windows
Hits:
123795
File size:
5.0 MB
Price:
Not specified
Name: *

E-Mail: *

Comment: *